Mass Times
Saturday at 4:00 p.m.
Sunday at 7:30, 9:00, and 11:00 a.m.
Monday-Friday at 8:15 a.m.
9520 W. Forest Home Avenue
Hales Corners, Wisconsin 53130
414-425-2174
Contact Us

New to the Safeguarding process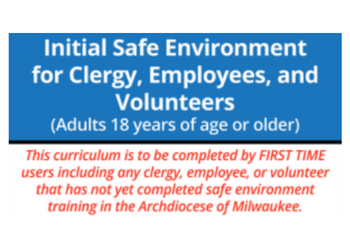 1. Go to this link milwaukee.cmgconnect.org
2. Register for a new account. Please use your primary email address so you receive updates, password resets and prompt renewal notifications.
3. Select the icon that looks like the blue box above for "Initial Safe Environment" training. If you don't see the icon in the middle of your screen at sign in, go to the upper left side of your screen and select "Dashboard."
Note: First time certification requires in person training through the Archdiocese of Milwaukee. Sign up is done through the blue box module above. Currently in person and virtual training options are available. We will clear your background check and advise you of your certification status within 3-5 days of your completing the course.
If you run into any troubles you cannot address through the CMGConnect.org website, please contact us at safeenvironment@stmaryhc.org.