Mass Times
Saturday at 4:00 p.m.
Sunday at 7:30, 9:00, and 11:00 a.m.
Monday-Friday at 8:15 a.m.
9520 W. Forest Home Avenue
Hales Corners, Wisconsin 53130
414-425-2174
Contact Us

Haiti - Latiboliere Sister Parish
Haiti Earthquake Update
St. Mary Catholic Faith Community, Hales Corners and Our Lady of Perpetual Help, Latiboliere, Haiti have been sister parishes for over 20 years. The village of Latiboliere, Haiti, is located just north of Jeremie, Haiti. The August 14th earthquake caused catastrophic damage to the infrastructure in our sister parish community of Latiboliere. Over 80% of the parish center buildings have been destroyed. Our clinic, parish school, community center and rectory cannot be repaired. (The parish church was destroyed by Hurricane Matthew in 2017, still hasn't been rebuilt, and all masses were being celebrated in what was the community center.)
Our relationship with the people of Latiboliere is strong and vibrant. Grounded in our Catholic faith we share prayer, faith, hope and love. Our community in Hales Corners hurts with the people in Latiboliere and all of Haiti and we stand in solidarity, as family, to help them through yet another catastrophe. We pray with them.
Beyond our prayerful support, we are working with people on the ground in Haiti to get direct relief (food, medicine and water purification tablets) directly to Latiboliere. The gangs that have been causing so much pain and suffering during the recent political unrest have promised to stand down and allow relief efforts to get to the people in need. We have strong relationships with local people who will assist us in our relief efforts. Food For the Poor (international relief organization) is helping get supplies to Jeremie (the nearest city). We are working with them to designate supplies for Latiboliere. Our Haitian leadership is organizing shelter and meals (2 per day). Water, food, medicine and tents are all urgently needed. Because of your generosity we have funding in place that enables us to give them what they need. We monitor the situation daily and are provided with reports on how our dollars are used. Currently we are funding an emergency plan which includes food and medicine. We have opened the schools and are helping to feed/teach 450 school children in 3 temporary classrooms and outside.
Your donations are the reason we can actively support Latiboliere. YOU provide needed resources and hope to the people of our sister parish community. You can write a check to St Mary, indicate "Haiti Mission" on the memo line and send it to St. Mary Catholic FAith Community, 9520 W. Forest Home Ave, Hales Corners WI 53130
We thank you for your prayers and financial support.
Haiti Overview
Haiti is the poorest country in the western hemisphere, and one of the poorest in the world. The 7 million Creole and French-speaking people (80% of them Catholic) live in mostly rural areas. The families live in thatched or tin roof homes without running water or electricity. Their livelihood comes from selling produce from a small plot of farmland. Ninety percent earn less than $150 US dollars annually.
There is one doctor per 50,000 people in Haiti. Babies die at a rate of 60 per 1,000 live births. 80 children per 1,000 live births die before the age of 5. The life expectancy for adults is 49 years. More than 80% live without electricity, 80% are illiterate. Because life is a constant struggle for survival, the people of Latiboliere definitely benefit from our prayers and our generosity.
Greatest Needs
Clean water
Food
Medicine
Infrastructure
Nutritional education
Our Mission
In the pursuit of peace and justice, we strive to be the compassion of Christ, as we advocate for and minister to those in need.
Our Goal
To enrich our lives and become better citizens of the world as we keep our eyes and minds open to the beauty of the people of Latiboliere. To provide programs for and support to members of the community of Latiboliere that assist them in making needed, sustainable changes to their lives. We seek to empower them by working side by side with them to improve education, health care, provide potable water and enhance employment opportunities.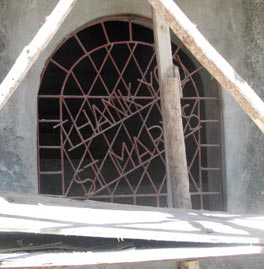 Our Values
We believe our efforts should be grounded in Scripture, Sacrament, and Service.
Our Vision
We work and pray so that one day the people of Haiti experience the justice deserved by all God's children; food is plentiful, medical care is available and hearts are full of joy.
Our Parish Twinning Program
For 10 years, St. Mary Parish has been dedicated to nurturing: understanding, friendship, and love between our parish and the people of Latiboliere. We seek to establish a viable and loving relationship through frequent communication and prayerful solidarity. With an emphasis on creating very real and personal relationships, many individuals have visited Haiti as a result of our outreach. These visits develop relationships which form a bridge whereby the love of God flows in both directions as we care, share, pray for and learn from one another. Our relationship is supported by The Parish Twinning Program of the America's.
Catholic Social Teaching and Twinning: Invaluable Insights
As Catholics, our social tradition demands that we discern the "signs of our times," listening to the many voices of our world and interpreting them in light of the divine Word. Here at St. Mary's, we are blessed as our twinning relationship provides us with an invaluable perspective and the joy of getting to know the wonderful people on Latiboliere. Join us in our exploration of the eight themes of Catholic Social Teaching through their realities.

Ways to Help


Water and Sanitation Help, Nutritional support, Education Initiatives, Health Initiative, Soccer Initiative, Collections, packing and shipment of Sea Containers, and Mission Teams to Haiti.
Make checks payable to:
St. Mary Parish
~designate for Haiti in the Memo~
Send to:
St Mary Catholic Faith Community
9520 W. Forest Home Ave
Hales Corners, WI 53130


---

Contact Us


Andrea Kachellek
Haiti Committee Cochair
Email: andream327@gmail.com
(414) 510-4307
Barb Schwartz
Haiti Committee Cochair
Email: SkipBarb@att.net
(414) 425-1658
Pam Lownik

Director of Social Concerns & Outreach

Email
: LownikP@stmaryhc.org
(414) 425-2174, ext. 256
---
Do you wonder why type of financial suupport we provide to the community of Latiboliere? Click here to find out more information on our Haiti Budget.
Do you wonder what St. Mary Catholic Faith Community initiatives are with our Haiti Sister Parish? Click here to find out more information on Our Current Initiatives.