Mass Times
Saturday at 4:00 p.m.
Sunday at 7:15, 9:00, and 11:00 a.m.
Monday-Friday at 8:15 a.m.
9520 W. Forest Home Avenue
Hales Corners, Wisconsin 53130
414-425-2174
Contact Us

Soccer Initiative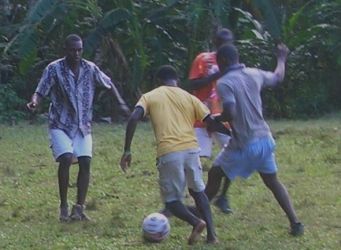 You might wonder, with all the needs in Haiti, why support the soccer initiative? It may sound odd to focus on sports when meeting basic nutritional needs is a struggle, but this program follows our strategy of encouraging integral health and education programs. Starting an outdoor soccer program in Latiboliere is a logical choice because soccer can be played year round and set up costs are minimal.
Our program is new but building momentum. In Latiboliere, just say the word "football" to the children and smiles instantly appear! Children love to play soccer, but due to economic circumstance often play in their bare feet. Without adequate equipment, the risk of injury is great, while the opportunity for even basic healthcare is scarce.
Our Goal
To add joy to the lives of those much less fortunate by providing basic soccer gear accompanied by a structured program. The Haiti Soccer Initiative working with the Sports Committee of Latiboliere teaches soccer and promotes teamwork, fair play, reinforces family values and strengthens community ties. It scores dividends for families and the community.
Needed education is also provided on personal hygiene, public health, and sound personal decision making.
Our Needs
1. Financial
Funds are needed to improve field conditions, build a fence and purchase goal posts. Fields are rocky, uneven, and dangerous. Goal posts are made of wood and need to be replaced often. The fence is made of dried sugar cane plants, which is routinely eaten by goats.
2. Gear
Because the cost of shipping is expensive, donations of new or very gently used:
Soccer cleats – all youth and adult sizes
Sets of team jerseys/uniforms – all youth sizes and adult Small and Medium
Shin guards
Leather soccer balls and pumps
Goalie Gloves
Referee Jerseys
Gift Cards to Sports Authority or other local Soccer Shops.
3. Committee Members
If you have a passion for soccer, are comfortable approaching individuals and asking for donations or are skilled at planning special events help us reach our goal by joining the Haiti Soccer Committee.

Don't you realize that your body is the temple of the Holy Spirit, who lives in you and was given to you by God? You do not belong to yourself, for God bought you with a high price. So you must honor God with your body.
1 Corinthians 6:19-20

Ways to Help


Water and Sanitation Help, Nutritional support, Education Initiatives, Health Initiative, Soccer Initiative, Collections, packing and shipment of Sea Containers, and Mission Teams to Haiti.
Make checks payable to:
St. Mary Parish
~designate for Haiti in the Memo~
Send to:
St Mary Catholic Faith Community
9520 W. Forest Home Ave
Hales Corners, WI 53130


---

Contact Us


Lisa Ryan
Liaison to Soccer Initiative
Email: JimRyan6@wi.rr.com
Andrea Kachellek
Haiti Committee Cochair
Email: andream327@gmail.com
(414) 510-4307
Barb Schwartz
Haiti Committee Cochair
Email: SkipBarb@att.net
(414) 425-1658
Pam Lownik

Director of Social Concerns & Outreach

Email
: LownikP@stmaryhc.org
(414) 425-2174, ext. 256