Mass Times
Saturday at 4:00 p.m.
Sunday at 7:15, 9:00, and 11:00 a.m.
Monday-Friday at 8:15 a.m.
9520 W. Forest Home Avenue
Hales Corners, Wisconsin 53130
414-425-2174
Contact Us

St. Vincent de Paul Society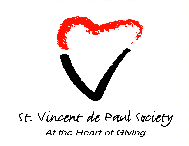 As disciples, we embrace the gospel message to see the face of Christ in those experiencing difficult problems. We offer material, spiritual, and advocacy assistance to those who are in need. As citizens and Christians, we accept our obligation to cultivate sensitivity to social injustices and to share in eradicating these social ills.
St. Vincent de Paul Society (SVdP) is a group of men and women who strive to grow spiritually by offering confidential person-to-person service to individuals in need. St. Mary's SVdP conference supports those ministries listed below, as well as a back to school drive, blood drive, winter clothing initiative, and many other activities supporting the needs of individuals in a dignified way.
SVdP Food Pantry
Our food pantry provides food for those struggling to make ends meet; open 3:30-5:00 p.m. the second and fourth Monday of every month. Food donations welcome year round in the Gathering Space hallway. Volunteers are always welcome.
Thanksgiving Food Drive
Held in November each year, we take requests for Thanksgiving baskets. We also need help with food donations, preparing food baskets and delivery.
What We Offer
Assistance is available concerning how to obtain emergency clothing, location of meal programs, food vouchers, spiritual guidance, emergency financial assistance, access to shopping at SVdP stores, family resource center opportunities, and parish outreach programs.
We visit the homebound, hospitalized, and those in nursing homes.
Individuals do not have to be Catholic to receive support and help.
We are available to all St. Mary parishioners regardless of location, and non-parishioners within the SVdP community designated areas
All information and assistance remain completely confidential.
If you need assistance, contact the St. Mary Parish Office. Your request will be forwarded to a SVdP society member, and they will contact you to make arrangements for a home visit.
About Our Group
Only active SVDP members do our volunteer ministry work.
Our person-to-person assistance is always sensitive and preserves human dignity and Christian integrity.
All financial funding is received through parish or private donations.
Members meet on the first Wednesday of each month at 7:00 p.m.