Mass Times
Saturday at 4:00 p.m.
Sunday at 7:15, 9:00, and 11:00 a.m.
Monday-Friday at 8:15 a.m.
9520 W. Forest Home Avenue
Hales Corners, Wisconsin 53130
414-425-2174
Contact Us

Prayer Partner Initiative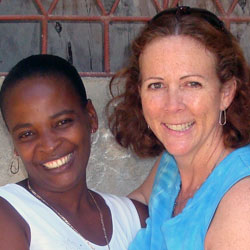 In order to strengthen the bonds with our sisters in Haiti, we started pairing women here with women in Latiboliere as prayer partners. We were not sure how this would work but we were certain there would be a spiritual connection. The original group of 11 partners has now expanded to 47. Prayer partners share pictures of each other, and through letters share stories about their families and their interests.
"Where there is love there is life." Gandhi
The Results
The power of prayer can not be measured. However, the bond between St. Mary Parish and Our Lady of Perpetuel Help in Latiboliere has been strengthened. 94 women pray for each other every day. Reflections on scriptures are shared between the groups as well. Women from this group traveled to Latiboliere in December of 2008 for the sole purpose of prayer, reflection and establishing a rapport with their prayer partners. In April 2009, 23 prayer partners gathered at St. Mary for a morning of reflection and prayer. At the same time, the women's group in Haiti gathered for prayer. Standing together in prayer and solidarity was a very moving experience.
Our Challenges
Communication does not occur as often as we would like. Due to the language difference, letters need to be translated. But we are fortunate to have people with those skills within our parish. Mailing letters is not an option, we are dependent on teams traveling to Haiti to hand deliver our communications.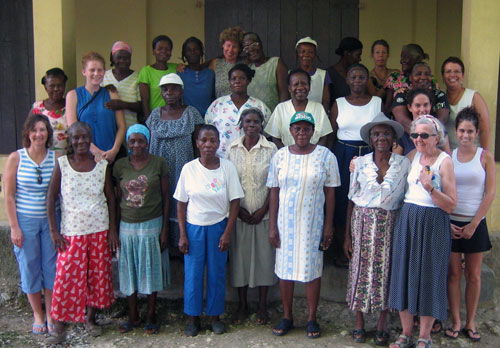 To Learn More
Please contact the Liaison to Prayer Partner Initiative for additional information.
While all available partners are matched at this time, the power of your prayers remains important. Please continue to pray for our sister parish. Watch the bulletin for future prayer partner opportunities.
The prayer partners are one in spirit even though some of us may never meet. "That they may all be one; even as You, Father, are in Me and I in You, that they also may be in Us, so that the world may believe that You sent Me." John 17:21

Ways to Help


Water and Sanitation Help, Nutritional support, Education Initiatives, Health Initiative, Soccer Initiative, Collections, packing and shipment of Sea Containers, and Mission Teams to Haiti.
Make checks payable to:
St. Mary Parish
~designate for Haiti in the Memo~
Send to:
St Mary Catholic Faith Community
9520 W. Forest Home Ave
Hales Corners, WI 53130


---

Contact Us


Sandy
Liaison to Prayer Partner Initiative
Email: sandprayer07@sbcglobal.net
Andrea Kachellek
Haiti Committee Cochair
Email: andream327@gmail.com
(414) 510-4307
Barb Schwartz
Haiti Committee Cochair
Email: SkipBarb@att.net
(414) 425-1658
Pam Lownik

Director of Social Concerns & Outreach

Email
: LownikP@stmaryhc.org
(414) 425-2174, ext. 256