Mass Times
Saturday at 4:00 p.m.
Sunday at 7:15, 9:00, and 11:00 a.m.
Monday-Friday at 8:15 a.m.
9520 W. Forest Home Avenue
Hales Corners, Wisconsin 53130
414-425-2174
Contact Us

Respect Life
There is such a wide spectrum of issues involving the protection of human life and the promotion of human dignity. Good people frequently disagree on which problems to address, which policies to adopt and how best to apply them. But for citizens and elected officials alike, the basic principle is simple: We must begin with a commitment never to intentionally kill, or collude in the killing, of any innocent human life, no matter how broken, unformed, disabled or desperate that life may seem. In other words, the choice of certain ways of acting is always and radically incompatible with the love of God and the dignity of the human person created in His image.
United States Conference of Catholic Bishops "Living the Gospel of Life," © 1998 USCCB.
---
American Family Association Prayer of Confession for Our Nation
Heavenly Father,
We confess that we have sinned as the people of ancient Israel sinned in their day. We have polluted our land by the shedding of innocent blood through abortion and terrible violence against unborn babies. We have become guilty because of the blood we have shed. We know that their blood - the blood of 60,000,000 innocent babies - cries out to You from the ground for justice. We acknowledge that if we do not turn from this detestable practice, we will bring our days as a nation to a close, and the end of our years will come.
Even though we may not have committed these sins ourselves, we ask in identification with our people, that You will forgive us. Forgive us as a nation for not recognizing Your image, the image of God, in every preborn baby. We confess that we have acted very wickedly toward You, and have not obeyed the commands, decrees, and laws You have given us. Please, Lord, renew a right spirit in us, that we may return to You and obey You so that You may gather us and bless us.
---
Prayer for Those Who Have Lost a Child to Abortion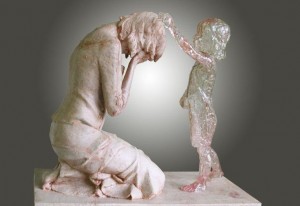 Lord of all life,
Hear our prayer today for our brothers and sisters
who have lost children to abortion.
Help us to understand the pain that is in their hearts,
and to be a living sign to them of your welcome,
your mercy, and your healing.
Help them to undergo with courage the process of grief
and the journey of healing.
Give them new strength, that even while they grieve
what they have lost,
they may look forward to all the good
that you still have in store for them.
Lord of healing and hope, give us all the forgiveness of our sins,
and the joy of your salvation.
We ask this in the name of Jesus the Lord.
Amen.

by Fr. Frank Pavone

Committee member and founder of Love Life Library, Phyllis Nickchen, is happy to announce receiving a number of books/other media, from the founder of Project Rachel, Vicki Thorn, of Milwaukee. These resources focus on healing after abortion, or sexual abuse. (lovelifelibrary.org)
May we also suggest:
---
Present Goals
Increase awareness of The Gospel of Life and how Catholics can make a difference in our anti-life culture.
Support parishioners in obtaining resources and participating in pro-active Respect Life initiatives.
Continue supporting Women's Support Center of Milwaukee
View Fr. Dominic's Presentation
"How We Can All Cherish Life, Our Most Invaluable Treasure, Yes! We are a Masterpiece of God's creation."

---
Get Connected


Meetings
1st Thursday each Month at 7:00 p.m.
September - June
see bulletin for locations
---
Contact Us


Mary Forecki
Respect Life Liaison
(414) 529-9663
Email: maryforecki@hotmail.com
Eva Melenchuk
Respect Life Liaison
(414) 429-6245
Email: melenchuk@att.net
Chris Warner

Respect Life Liaison

(414) 425-0146
Email
: chrisawarner@yahoo.com
Pam Lownik

Director of Social Concerns & Outreach

(414) 425-2174, ext. 256
Email
: LownikP@stmaryhc.org