Mass Times
Saturday at 4:00 p.m.
Sunday at 7:15, 9:00, and 11:00 a.m.
Monday-Friday at 8:15 a.m.
9520 W. Forest Home Avenue
Hales Corners, Wisconsin 53130
414-425-2174
Contact Us

Respect Life
Twenty-five years ago, Pope St. John Paul II wrote that the Gospel of life is at the heart of Jesus' saving message to the world (Evangelium vitae 1). In taking on human flesh, dwelling among us, and sacrificing his very life for our redemption, Christ reveals the profound dignity of every human person. This God-given dignity does not change with our stage of life, abilities, level of independence, or any other varying circumstance.
In this encyclical, Pope St. John Paul II recognizes the full range of threats against human life, from poverty and malnutrition to murder and war. He places particular emphasis, however, on threats to life at its beginning and end— precisely when it is most in need of protection. In modern times, children in their mothers' wombs and those approaching the end of their lives are certainly among the 'least of these' in our world's estimation. Practices such as abortion and assisted suicide tragically reject the truth that human life is always to be cherished and defended with loving concern.
As the Church celebrates the 25th anniversary of Pope St. John Paul II's prophetic encyclical, let us reflect on how we personally live out the Gospel: Do I talk about and act towards others as I would talk about and treat Jesus himself ? Do I inform myself of the Church's teachings and engage in the civic arena as first a follower of Christ? Do I support and advocate for laws and policies that protect and defend human life? Do I help pregnant and parenting mothers in need? Am I ready to support a loved one nearing death?
Excerpt taken from USCCB reflection document Live the Gospel of Life, 2020
The St. Mary Respect Life Committee will share four separate articles regarding our focus and activities in each of the October bulletins.
The committee currently commits to "Living the Gospel of Life" by standing and praying for the end to abortion in conjunction with 40 Days for Life and Life Chain. We welcome our parishioners to join us.
Sunday: Oct. 4, 2:00-3:30p.m., Life Chain, Hwy 100 & Forest Home
Thursday: Oct. 8, 11:00-noon, 40 Days, 1428 North Farwell
Monday: Oct 12, 1:00-2:00 p.m., 40 Days, 1428 North Farwell
Thursday: Oct 15, 4:00-5:00 p.m., 40 Days, 1428 North Farwell
Do you have questions or want to know how you can be involved?
Contact
Chris Warner
Email: chrisawarner@yahoo.com
(414) 425-0146
---
Prayer for Those Who Have Lost a Child to Abortion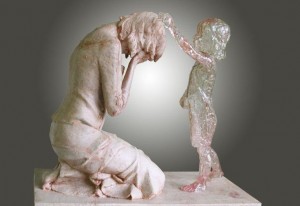 Lord of all life,
Hear our prayer today for our brothers and sisters
who have lost children to abortion.
Help us to understand the pain that is in their hearts,
and to be a living sign to them of your welcome,
your mercy, and your healing.
Help them to undergo with courage the process of grief
and the journey of healing.
Give them new strength, that even while they grieve
what they have lost,
they may look forward to all the good
that you still have in store for them.
Lord of healing and hope, give us all the forgiveness of our sins,
and the joy of your salvation.
We ask this in the name of Jesus the Lord.
Amen.

by Fr. Frank Pavone

May we suggest Project Rachel, hopeafterabortion.com as an excellent Catholic starting point.
Present Goals
Increase awareness of The Gospel of Life and how Catholics can make a difference in our anti-life culture.
Support parishioners in obtaining resources and participating in pro-active Respect Life initiatives.
Continue supporting Women's Support Center of Milwaukee
View Fr. Dominic's Presentation
"How We Can All Cherish Life, Our Most Invaluable Treasure, Yes! We are a Masterpiece of God's creation."

---
Get Connected


Meetings
1st Thursday each Month at 7:00 p.m.
September - June
see bulletin for locations
---
Contact Us


Mary Forecki
Respect Life Liaison
(414) 529-9663
Email: maryforecki@hotmail.com
Eva Melenchuk
Respect Life Liaison
(414) 429-6245
Email: melenchuk@att.net
Chris Warner

Respect Life Liaison

(414) 425-0146
Email
: chrisawarner@yahoo.com
Pam Lownik

Director of Social Concerns & Outreach

(414) 425-2174, ext. 256
Email
: LownikP@stmaryhc.org