Mass Times
Saturday at 4:00 p.m.
Sunday at 7:30, 9:00, and 11:00 a.m.
Monday-Friday at 8:15 a.m.
9520 W. Forest Home Avenue
Hales Corners, Wisconsin 53130
414-425-2174
Contact Us

Social Concerns & Outreach

News & Needs
Serve365
Serving each other in the wake of the CoVID19 pandemic
My heart and prayers go out to all of you. We are living with uncertainty, sometimes confident, and sometimes scared. I know God is good and with us. Our ministry partners continue to send me their gratitude for walking with them. They pray for us and offer support. Please take the time to read the letter we received from our sister parish in Haiti and the updates from our partner organization.
I have received so many offers of generosity throughout this time and am very humbled and grateful. Looking forward to St Mary's re-entry and the building of an even stronger community. Thanks for being wonderful Catholic Christian Disciples of Jesus Christ.
Please feel free to contact me with any news or needs! May God keep you safe, and bless you and yours.
Pam Lownik
Director of Social Concerns & Outreach
Email: LownikP@stmaryhc.org
(414) 425-2174, ext. 256
---
Prayer
O Christ Jesus,
When all is darkness
And we feel our weakness and helplessness,
Give us the sense of Your Presence,
Your love, and Your strength.
Help us to have perfect trust
In Your protecting love
And strengthening power,
So that nothing may frighten or worry us,
For, living close to You,
We shall see Your Hand,
Your Purpose, Your Will through all things.
—St. Ignatius of Loyola (receive these prayers daily at JesuitPrayer.org)
---
Haiti Update: A Letter From Haiti Offering Support to Us
From: St. Mary Committee Latibolière
To: St. Mary Committee Milwaukee
"Come back to the Lord; He will deliver you from any kind of evil." These words are from the Bible, all of us from the St Mary Committee of Latibolière with our Pastor, Père Dante, use them to greet you and express our gratitude towards you and all of those who help us, for everything you do for us in Latibolière.
We hear and see how the USA is seriously affected by this pandemic which makes the whole world kneel every day. Everyone is affected directly or indirectly.
The Lord said to Job he will deliver him (Job 5,20). Our hope is in God who saved his people, in God who has given victory to his son, Jesus, on his death. We are sure and certain that this same God is still present and will deliver us from pandemic (Covid-19).
Today, like Peter and John at the gate of the Temple of Jerusalem, they said to the poor who couldn't work and who were waiting for something from them, we have neither Gold nor Silver to give you but in the name of Nazareth, stand up and go. We would like to use the same words to tell you that you can rely on our prayers, our and our love for you.
May the Good Lord bless you all, protect you and your country.
Yours truly,
P Dante, Demosthène Dieuseul' Bona Lagrenade, Eddy Verrier
Mariane Verrier Roseline Pamphile, Alain Plaisimé
---
Respect Life Update
The Women's Support Center of Milwaukee (WSC) has slowly and cautiously returned to serving families in need since April 6th. Even though donations in general to the Center were down over the last 3 months, the executive director was so impressed by how St. Mary parishioners faithfully sent in their donations.
WSC Current Needs
diapers, sizes 5 and 6

Pull-ups

wipes

new receiving blankets

Onesies

0-9 month sleepers

formula

8 oz. bottles

pacifiers

baby wash
As always, monetary donations are very welcome.
Contact Pam Lownik to arrange a pick-up or drop off of the baby items.
St. Mary Respect Life liaison, Eva Melenchuk, has returned to work performing ultrasounds for those women experiencing confusion regarding their pregnancy. The other members of the committee continue their prayers for life; 40 Days for Life vigil, Friday Mass, and the rosary from home.
On March 25 (The Annunciation) the USCCB began a year-long focused program called Walking with Moms in Need.
As a committee, we will be utilizing and sharing some of these recommendations from the US Bishops. We will be discussing options for October's Respect Life Month.
---
St. Ben's Community Meal Update
The Capuchins at St. Ben's have been focusing on providing food to the needy during this crisis. Most of their other services have been temporarily suspended, as well as all volunteer services and donations of both food and material goods.
They have transitioned from limited dining room service to carry-out meals to delivering meals to shelters, as needs have changed as the crisis developed. They prepare over 100 meals a day from purchased food, then pack and deliver to shelters and other supportive housing. With these extra expenses, the ministry is in need of monetary donations.
Visit Capuchin Community Services to donate online. Or, donate by mail to P.O. Box 5830, Milwaukee, WI 53205.
The friars ask for your prayers and monetary support until such time we can all serve again together.
---
Nia Imani Update
From Belinda Pittman...

The Nia Imani staff and program families are all doing well. I am so very grateful that the donations made by the St. Mary's Congregation was very helpful to the organization. We had the necessary items needed to assist the program during this coronavirus pandemic. We was able to provide cleaning products to all participants so that they could keep there apartments sanitized, laundry detergent and bleach to do their laundry, no one had to go out to purchase things such as toilet paper, kleenex, hand sanitizer, garbage bags etc....whatever we needed that was not donated I was able to purchase because we received monetary donations as well.
All of the Nia Imani Family participants did a 14 day self quarantine and everything that the families needed was provided to them including some activities for the children, cleaning products to keep the inside of the facility sanitized. On behalf of Nia Imani board of directors, staff and program participants I would like to say we made it through with the generosity of the St. Mary's Congregation!!
NEEDS? We could use fans. It gets extremely hot in the building and we have experienced a couple of really hot days already. If anyone has twin or full size beds to donate we could use those items. We are doing okay for now. Contact Anne Deisinger by Email: amdeisinger@msn.com to arrange to make donations. (We don't have the ability to pick up and deliver furniture donations).
In the pursuit of peace and justice,
we strive to be the compassion
of Christ
as we advocate for and minister to
those in need.

Mission Statement
---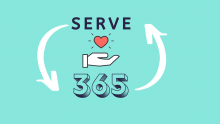 Thanks for your interest
and your witness.
---


Contact Us
Pam Lownik
Director of Social Concerns & Outreach
(414) 425-2174, ext. 256
mobile - (414) 412-9514
Email: LownikP@stmaryhc.org