Mass Times
Saturday at 4:00 p.m.
Sunday at 7:30, 9:00, and 11:00 a.m.
Monday-Friday at 8:15 a.m.
9520 W. Forest Home Avenue
Hales Corners, Wisconsin 53130
414-425-2174
Contact Us

Parish Festival Volunteer Manager
Thank you for volunteering!
Need to Change Dates?
Need Help?
If you need to change your work assignment, or if you need help using this tool, please use the Volunteer Contact Form to send a message to the Volunteer Coordinator.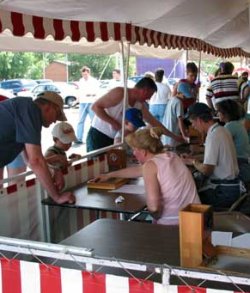 Fun and games at the St. Mary Parish Festival!
Below, you will see a list of volunteer opportunities. You can volunteer by selecting one of the areas/times below and completing the sign-up form.
This list is organized by area. View a list of dates/times when help is needed.
Please choose an area from the list below: