Mass Times
Saturday at 4:00 p.m.
Sunday at 7:15, 9:00, and 11:00 a.m.
Monday-Friday at 8:15 a.m.
9520 W. Forest Home Avenue
Hales Corners, Wisconsin 53130
414-425-2174
Contact Us

Announcements
World Youth Day 2023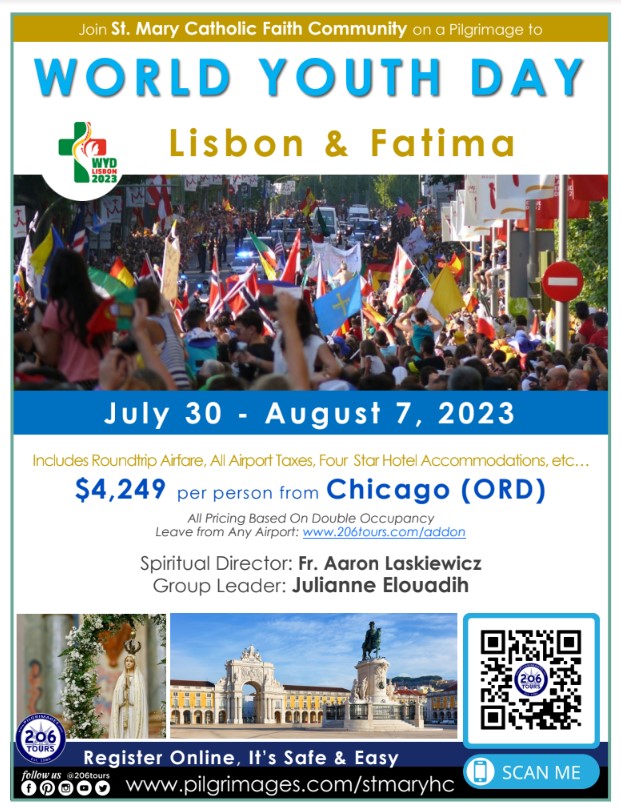 Teens are invited to experience the Universal Church like never before...
Grow closer to Jesus and His Church and pray with the pope alongside 1 million other young people from around the world!
High schoolers are invited to join St. Mary on a pilgrimage to World Youth Day in Lisbon, Portugal from July 30 – August 7, 2023.

Activities will include:
Panoramic tour of Lisbon • Daily Mass • Visit Fatima (a Marian apparition site)
World Youth Day Events • Welcome with Pope Francis • Tour of Sintra (Portugese town)
Church of Ingreja de Santa Maria • Pilgrimage Walk • Prayer Vigil with Pope Francis • Mass
with Pope Francis
The total cost per person is $4249, which includes airfare from Chicago. Fundraising opportunities will be available! A non-refundable deposit of $1500 is due upon registration. Please register online by February 1, 2023.
For more information or to sign up online, please visit www.pilgrimages.com/stmaryhc. You may also reach out to contact Julianne Elouadih, Youth Evangelization Coordinator, at elouadihj@stmaryhc.org or 414-425-2174 ext. 246 for more information.
Other Announcements