"Celebrating spiritual
growth while providing
academic excellence in a
Christ-centered environment"

9553 W. Edgerton Avenue

Hales Corners, Wisconsin 53130

414-425-3100 office

About Us Contact Us



Safeguarding All of God's Family
The goal of the Safeguarding All of God's Family program is to protect our children and all in the church family from sexual abuse and related dangers. To meet this goal, all employees, staff, and volunteers who have regular contact with children or youth must complete the Safe Environment Education as outlined below.
Safe Environment Education: What it means for me...
VOLUNTEERS
Catechists, athletic team coaches, Scout leaders, chaperones for overnight activities, and other Church volunteers who have regular contact* with children or youth:
Will read and sign the Code of Ethical Standards and the Mandatory Reporting Statement.
Will have a criminal background check completed.
All volunteers who have contact with children are required to attend a Safe Environment "Protecting God's Children" awareness session. They will need to pre-register for the session on the Events page of the Archdiocese of Milwaukee website.
EMPLOYEES AND STAFF
Priests, parish directors, deacons, DREs, DYMs, school and parish staff, archdiocesan central office staff, and other paid Church employees:
Will read and sign the Code of Ethical Standards and the Mandatory Reporting Statement.
Will have a criminal background check (state and national) completed prior to beginning employment.
Employees/staff are required to attend a Safe Environment "Protecting God's Children" awareness session.
For further instruction and to register for Safe Environment Education, visit the Archdiocese of Milwaukee's website: archmil.org/offices/safeguarding.htm
Safe Environment Education (SEE)
SEE Certification Instructions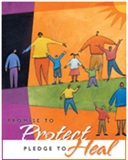 Contact Us
Jacque Kelnhofer
Safe Environment Coordinator
(414) 425-2174, ext. 246
Email: SafeEnvironment@stmaryhc.org
Resources