"Celebrating spiritual
growth while providing
academic excellence in a
Christ-centered environment"

9553 W. Edgerton Avenue

Hales Corners, Wisconsin 53130

414-425-3100 office

About Us Contact Us



After School Care
Overview
St. Mary Parish School offers a Before, Extended and After School Program for students requiring care during non-school hours. The program will be open Monday through Friday and will run the length of the school year. For a complete list of fees and policies, please contact the school office.
For the After School Program, each afternoon will start off with a snack that we provide. If your child will be staying late, we ask that you send an additional snack. Children will then have several options as to how they want to spend their afternoon. There is a quiet room for those who wish to do their homework, board games, puzzles, art supplies, Chromebooks, outside time, and a craft on Tuesdays and Thursdays. We look forward to making your child's afternoon fun and educational.
Rates and Hours
Before School Care (3K - 8th grade) - cost/day per child

6:30-7:30 AM
$5.00

Cost of supervision is free from 7:00 - 7:45 AM

After School Care (4K - 8th grade) - cost/day per child

One Hour (2:45 - 3:45 p.m.)
$6.00
After School Care (2:45-5:45 p.m.)
$15.00
Early Release Days (1:00 - 2:45 p.m.)
$10.00

A snack is included. The full charge of $15.00 will be assessed for students attending more than one hour.
After 5:45 p.m. you will be charge an additional $1 per minute on top of the $15.00.

Extended School Care - cost per day

3K students: 10:50 - 2:40
$20/day
4K students: 7:45-11:45 or 10:50-2:40
$20/day
5K students—11:40-2:40
$20/day

Annual Registration Fee

One child
$25.00
Two children
$40.00
Three or more children
$50.00
Payment Policies
Payments can be made as service has been rendered. To view your balance log into PowerSchool Parent Portal. Checks are made payable to St. Mary Parish School. This check should only be for child care fees. Do not include any other payments on this check. You also have the option to pay through eFunds for Schools with either a credit card or a a check (ACH). Additional information for PowerSchool and eFunds for Schools is on the school website under the Parents tab.
Once a month, a statement is mailed home to anyone with an outstanding balance. Payment is considered past due if not paid by the 30th of each month. A $20.00 late fee may be assessed for each week payment is not made. Past due accounts will result in children being removed from the program. Re-admittance to the program will be allowed upon full payment of all past due tuition and late fees. Spaces are limited and may be granted to other families if a family is un-enrolled due to outstanding tuition charges.
No family will be denied program admission because of financial needs. If arrangements of this type need to be made, please contact the Director of Administrative Services at 414-425-2174 ext. 216.
Emergency Drop-In Care
Emergency drop-in care is available to families needing occasional care.
Care must be approved in advance and will be given only if space is available.
The registration fee will be assessed for the family upon the first use of drop-in care services.
The standard tuition rates apply for morning and afternoon care.
All necessary paperwork must be on file with the Program Director in order to utilize drop-in care.
After School Care Phone Number
2:40 p.m. - 5:45 p.m.
414-425-3100 x320
Questions?
School Office: 414-425-3100.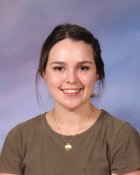 Kaitlin Ceragioli
After School Care Assistant
Holiday Closings
The program will be closed on major holidays, including Thanksgiving, Christmas, New Year's Day and Memorial Day. Families will not be charged for these days.
Flyers
Forms