"Celebrating spiritual
growth while providing
academic excellence in a
Christ-centered environment"

9553 W. Edgerton Avenue

Hales Corners, Wisconsin 53130

414-425-3100 office

About Us Contact Us



Faith Overview
At St. Mary Hales Corners Parish School, faith is fundamental to all that we do at our school to aid in our spiritual growth.
Mass at St. Mary
Liturgies are an integral part of the St. Mary experience. All-school Masses are offered each Tuesday and on Holy Days to celebrate the unity of our Catholic faith. Different grade levels help prepare various masses and participate in liturgy and serving.
First Holy Communion and Reconciliation
The sacrament of First Holy Communion is received by our 2nd Graders every May. Along with this, our older children are offered the sacrament of reconciliation during Advent and Lent.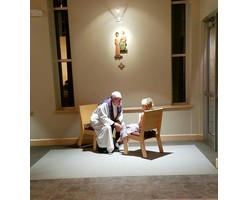 Lenten Commitments
Our All-School Lenten cross reflects the growth toward God that we are hoping for through our prayer, fasting, and almsgiving this Lent. On AshWednesday, 3K students nail their Lenten commitments to the cross. 4K through 8th grade students add their commitments throughout Lent until all commitments are on the cross.
The "Real Presence" of Jesus Christ in Eucharist: Haiku
In 7th grade, students wrote Haiku (a major form of Japanese verse, written in 17 syllables divided into 3 lines of 5, 7, and 5 syllables), that demonstrated their understanding of the "Real Presence" of Jesus Christ in Eucharist. Here is an example of what one 7th grade student created.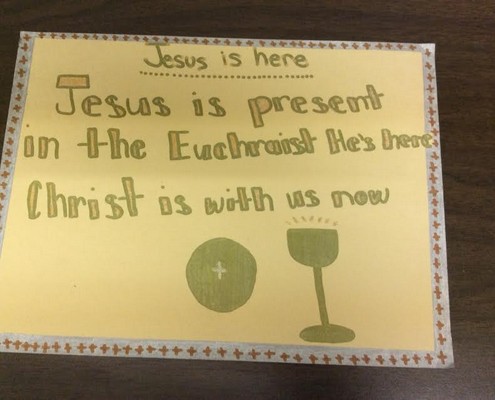 Religion in Action
Religion is a core subject at St. Mary and students attend religion class daily. In 7th grade, students have been discovering how Jesus wants us to live in the Kingdom of God. Jesus gave us the Beatitudes to help us live as his disciples in the Kingdom of God. Students explored the Beatitudes and how seventh grade students can use them in their lives. Students then designed video games that would help other young people understand the connections between living in the Kingdom of God and following the Beatitudes. They also gave a persuasive presentation to the "board of directors", (the rest of the class) about how their game best makes this connection clear.

Contact Us
Dr. Mark Joerres, Principal
(414) 425-3100
Email: joerresm@stmaryhc.org