"Celebrating spiritual
growth while providing
academic excellence in a
Christ-centered environment"

9553 W. Edgerton Avenue

Hales Corners, Wisconsin 53130

414-425-3100 office

About Us Contact Us



VBRC: Virtue Based Restorative Character Development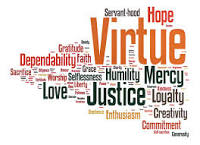 By learning about and following the virtues, we are showing our commitment to live out our mission statement of "Celebrating spiritual growh and academic excellence in a Christ-centered environment."
Click here to see "The Promise" signed by all students and parents.
For the 2020-21 school year, our theme is "JOY."
J - Jesus
O - Others
Y - You
Our students will be embracing this theme along with their faith development through participation at mass, classroom instruction, and service.
Month
Virtues
Ways to Cultivate
September

Responsibility

Be accountable for one's personal actions and decisions at home, at school, and in personal relationships.

October

Courtesy

Be aware of others' feelings and expressions.

Be polite, well-mannered.

November

Gratitude

Count the good things (blessings) in one's life.

Express gratitude even when it is difficult.

December

Good Judgement

Carefully consider all the circumstances and ask "What am I to do now?"

January

Patience

Listen to others.
Wait for one's turn.
Tolerate inconveniences and annoyances without complaining.

February

Kindness

Practice speaking, thinking, and acting kindly.

March

Prayerfulness

Cultivate a spirit of prayer and recollection.
Maintain the proper posture (kneeling, sitting still, etc.).

April

Fortitude

Withstand difficulties.
Complete hard tasks.

May

Self-Control

Mastery of one's desires.
Practice restraint in regards to words and actions.

June

Foresight

Pray, think, act- learn how to gather information to make a decision.

Plan out long-term and short-term goals.
Click the below photo to hear the students rap about the virtues: