"Celebrating spiritual
growth while providing
academic excellence in a
Christ-centered environment"

9553 W. Edgerton Avenue

Hales Corners, Wisconsin 53130

414-425-3100 office

About Us Contact Us



2020-2021 Tuition Information
St. Mary Parish School is operated by St. Mary Parish as an investment in the Catholic education of our young people and to help your child thrive in their Catholic Faith. Through the generosity of parishoners like you, school families that are active, registered parish members benefit from a significant reduction in tuition that is nearly half of the cost of education.
All parents/guardians are charged a tuition rate that is competitive with our peer group of private Catholic schools. Click on the Tuition Payment Contract and Policy listed to the right under Resources for further details and to calculate the amount of fees due.
Note: For 2020-2021 school year, the tuition due date of August 3, 2020 is later than in prior years. All the important dates are contained in the Tuition Payment Timeline under Resources to the right.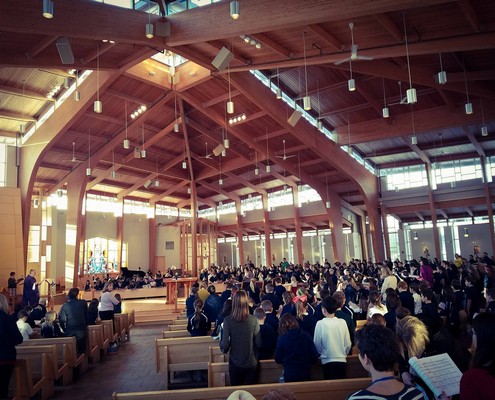 TUITION PAYMENT CONTRACTS:
You will receive your Tuition Payment Contract (listed to the right under Resources) at the end of May 2020. Please sign and return it acknowledging your tuition obligation and your commitment to support the operating fund from which we fund the school. This document makes it possible for us to assess your eligibility for Parishioner Subsidized tuition rates vs Non-Parishioner Rates. If you do not return the Tuition Payment Contract, you may be assessed at the higher non-parishioner rate of tuition. Once we receive this document, we will be able to properly assess your tuition obligation for the 2020-2021 school year.
TUITION PAYMENTS OPTIONS
You will receive your tuition statement in early July of 2020. Please sign and return it indicating your choice to either:
1. Pay Tuition in full by August 3, 2020, either by check at the Parish Office or using efunds for School to pay electronically.
OR
2. Pay your tuition monthly through the school year by signing up for the Smart Tuition Program AND making a 10% down payment by August 3, 2020. If you wish to participate in the Smart Tuition Program. Our school code is 1479. Instructions to enroll can be found listed to the right under Resources.
Families that miss the August 3, 2020 deadline will be assessed a $50 administrative fee.
Policy is effective May of 2020.
REFUND POLICY
Parents will either receive a refund or may owe additional tuition depending upon when the child is withdrawn and the amount of tuition paid to date of withdrawal. Click HERE to learn more about our Refund Policy.