"Celebrating spiritual
growth while providing
academic excellence in a
Christ-centered environment"

9553 W. Edgerton Avenue

Hales Corners, Wisconsin 53130

414-425-3100 office

About Us Contact Us



I Can Statement - 4th Grade
Reading and Language Arts

I Can…

Demonstrate command of standard English grammar and usage when writing.
Demonstrate command of standard English grammar and usage when speaking.
Apply knowledge of language conventions when writing, reading, or listening.
Determine the meaning of words using Greek and Latin affixes and tools.
Understand how to confirm or self-correct using context.
Differentiate between explicit and inferred information.
Analyze the text using details and examples.
Summarize why events, procedures, ideas, and concepts occurred with supporting details.
Analyze information from charts, diagrams, graphs, timelines, animations, and interactive elements.
Explain how details and examples support inferences.
Identify significant Greek characters and defining characters.
Understand how to answer questions and provide feedback.
Write informative / explanatory texts that include related information grouped in paragraphs or sections.
Sequence events logically with transitional words.
Write a narrative that uses dialogue, descriptions, concrete and/or sensory details.

Religion

I Can…

Understand the Church as a community of worship, witness, and service which carries on the work and mission of Christ
Understand the Liturgical Year and the symbolic colors of each season.
Recognize conscience as the inner ability to judge between good and bad when making choices.
Articulate the Ten Commandments using the traditional formula.

Math

I Can…

Draw points, lines, line segments, rays, angles (right, acute, obtuse), and perpendicular and parallel lines.
Convert larger units of measurement within the same system to smaller units and record conversions in a 2- column table.
Add, subtract multiply, and divide fractions and decimals.
Solve area and perimeter problems in which there is an unknown factor (n).
Read a protractor.
Fluently add and subtract multi-digit whole numbers less than or equal to 1,000,000 using the standard algorithm.
Recognize and identify equivalent fractions with unlike denominators.
Multiply or divide to solve word problems.

Science

I Can…

Investigate how sound, light, heat, and electricity are transferred.
Recognize the relationship between energy, frequency, and wavelength.
Explain the function(s) of a particular plant or animal structure.
Identify the three types of rocks.
Provide evidence of how the use of natural resources affect the environment.
Plan and carry out Investigations.
Analyze and interpret data.
Identify the relationships between the roles of science, technology, and Catholic ethics in a global community.

Social Studies

I Can…

Describe the importance of industries to Wisconsin in the past and present.
Examine various means of exchange.
Compare Wisconsin communities in the past and present.
Explore the significance of immigrants to Wisconsin.
Describe the conflicts that affected the settlement of Wisconsin.
Locate geographic landforms on Wisconsin and states maps.
Identify symbols of Wisconsin.
For more information about St. Mary Parish School's Curriculum:
Contact: Angelia Vogt, Director of Curriculum and Learning Support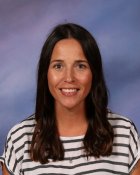 Resources