"Celebrating spiritual
growth while providing
academic excellence in a
Christ-centered environment"

9553 W. Edgerton Avenue

Hales Corners, Wisconsin 53130

414-425-3100 office

About Us Contact Us



Art Program
Objective of the Art Program:
St. Mary School believes that "Art is for everyone," Art is a fundamental part of a balanced educational program, and Art is a language of the spirit. As spiritual beings, we seek to grow in awareness of the presence of God in our daily lives and give students the joy of that experience. We embrace the relationship of art with the beauty of God's presence that surrounds us in the world.
At St. Mary School, students will enhance their educational experience; express their feelings, values and ideals through art; build their independent and critical thinking skills; and be given exposure to:
Multiple Art concepts and techniques through clay, painting, drawing, printmaking, collage, sculpture, fiber arts, and mixed media.
View art from different times and cultures.
Internalize and independently express themselves through different techniques.
Connect with God through Art.
Learn creative problem-solving, "think outside the box," recognizing that there may be more than one way to accomplish a goal or solve a real-world problem.
Curricular Goals by Level:
Primary (Grades 4K-2): Students spend 30 minutes per week with the Art Teacher in the Art Room, supplemented with an additional 60 minutes per week with the classroom teacher.
Intermediate and Middle School (Grades 3-8): Students spend 45 minutes per week with the Art Teacher in the Art Room.
Special Activities by Grade Level:
| | |
| --- | --- |
| 4K | Sensory Explorations |
| 5K | Printing/Collage/Water Color Resist/Apple Prints |
| 1st Grade | Color Wheel Explorations |
| 2nd Grade | Still Life Studies |
| 3rd Grade | Printmaking |
| 4th Grade | Designer Unit |
| 5th Grade | Stuffed Animal Sewing |
| 6th Grade | Large Scale Self-Portrait |
| 7th Grade | Paper Mache Sculptures |
| 8th Grade | Nativity Scene - Enlarged Grid Drawing |
For more information about St. Mary Parish School's Art Program:
Contact: Sherie Drees, Art Teacher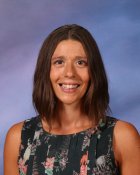 Click here for more information about our Fine Arts Night.