"Celebrating spiritual
growth while providing
academic excellence in a
Christ-centered environment"

9553 W. Edgerton Avenue

Hales Corners, Wisconsin 53130

414-425-3100 office

About Us Contact Us



Watch D.O.G.S
"Watch D.O.G.S. (Dads of Great Students)" is a nationally renowned program that aims to use fathers as a visual presence and positive role model within schools.
Here at St. Mary the program will consist of one dad per school day coming to school with their child/children for the day and follow a typical schedule that will be given upon arrival starting in October. Tasks will vary slightly for the Watch D.O.G.S dad of the day, but dads can expect to be helping in the classroom, lunch, recess, specials, and a variety of other tasks.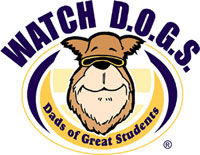 Coordinator
Kim Jones
Email: jonesk@stmaryhc.org
Sign up to volunteer beginning October 8 through May 17.