"Celebrating spiritual
growth while providing
academic excellence in a
Christ-centered environment"

9553 W. Edgerton Avenue

Hales Corners, Wisconsin 53130

414-425-3100 office

About Us Contact Us
School Testimonials
"St. Mary's middle school gave me the tools that I needed to begin my high school experience feeling prepared and confident. I was taught to balance my time, handle challenging curriculum, and set high expectations for myself as part of a faith-filled community."
Grace Goller - DSHA Freshman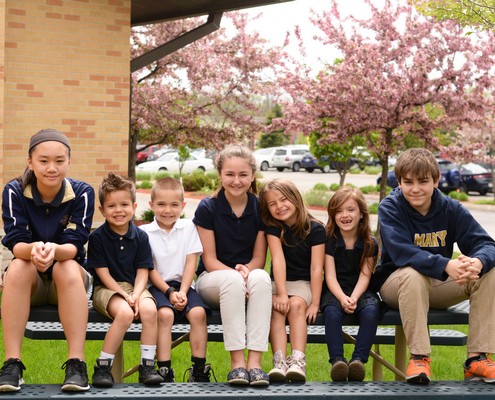 "I am proud to say that I am an alumni of St. Mary Parish School. I attended St. Mary Parish School K-4-8th grade.
Academically, I can say that I was well prepared for High School. I use the study skills that were taught to me by the caring and dedicated staff at St. Mary Parish School every day in high school.
They truly wanted for me to succeed. I have also strengthened my values, morals and my catholic values.
I have become the person I am today with the great foundation at St. Mary Parish School.
Lastly, St. Mary Parish School is home to me. I have met some amazing friends and families through attending school here.
I am thankful that I am still close with them as I take on my high schools years. WE ARE FAMILY!"
"My husband and I both attended Catholic school and wanted the same for our children. St. Mary Parish School has it all - a strong, faith-based education, amazing community of parents and teachers that care about their students. The teachers are able to accommodate all four of our children's different learning styles. The reading room that is offered has given our kids the extra help they need to boost their confidence. Mike and I want our kids to become respectful, confident and kind people with strong catholic values. St. Mary's does a good job of facilitating these qualities."
Mike & Bridget Zimmerman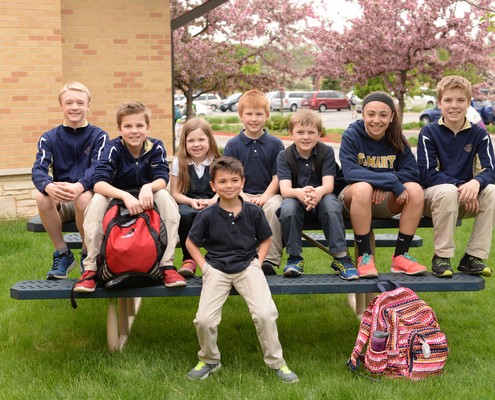 "Change is always a hard thing. No one likes to do it. Finding a new path is often uncomfortable and filled with unknowns. That's the place our family was in 2 years ago when we switched schools. At the time, with a 2nd grader and K5 student, we had many years of primary school ahead and we felt like we weren't getting "enough" out of our children's education. The prospect of changing our school and parish was daunting, but we felt like it was the right decision.
That's when we came to St. Mary's and we've never looked back. I guess the simplest way to sum up what our decision was based on was, opportunities. Now that the kids have been here two years, we feel firmly it was the right decision.
Academically, the programs are robust and the study habits they instill in the students is impressive. The curriculum has been challenging and my children are pushed to excel. I consider our school very focused on high school prep. This is validated every time I talk with parents of high school students who confirm how well-prepared their child was for high school (to the point teachers will actually guess that they are St Mary alum).
The resources – staff, technology, specials, faith – are all amazing. The staff are extremely dedicated and truly vested in their student's development. The extra programing they offer – from music and Spanish to Chess Club and Forensics – is fantastic. So many opportunities to give our kids a chance to experience something new and thrive at it.
There are so many opportunities to be a part of this community and make new friendships and truly challenge your child to excel. We welcome you to visit our school and experience the place we now consider home."
Jim and Mary Pat Rick