"Celebrating spiritual
growth while providing
academic excellence in a
Christ-centered environment"

9553 W. Edgerton Avenue

Hales Corners, Wisconsin 53130

414-425-3100 office

About Us Contact Us
Forensics
Objective
Open to students in 6th - 8th grade, forensics builds self-confidence and oral competency by developing and practicing fundamental public speaking skills in a fun, creative way!
Overview
With the help of their coach, team members prepare an oral presentation from one of seventeen different categories including Prose, Poetry, Storytelling, NewsReporting, Solo Acting and Group Acting, and Demonstration. These selections are then performed at scheduled tournaments and festivals where students are evaluated according to individual category standards.
We compete in about 4-5 meets a season. Students/Groups earn an individual score. With a qualifying seasonal score you can even attend a state competition! Students/Groups with the highest overall scores can earn medals and/or trophies. Schools whose team has the highest overall score also can earn a trophy.
In 2017, St. Mary took 4th grade at the Elmwood Chess Tournament and earned a trophy. Great job!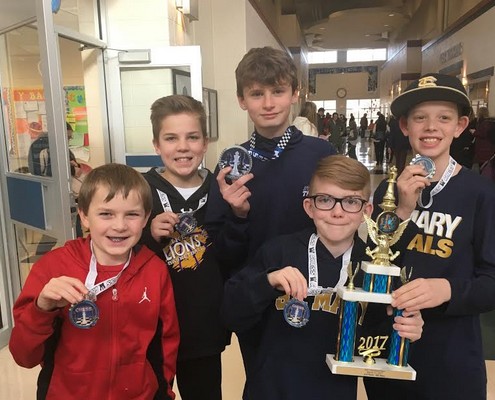 Links
Middle Level Forensics Assoc.
Activity Leaders
Kris Kuchenbecker and Allison Meuler
Grades
6th - 8th
Date/Time
Mondays, 2:45 - 3:45 p.m.
January - March
Location
Room 113 - Ms. Meuler's Room
Meets
Fridays or Saturdays in February and March