"Celebrating spiritual
growth while providing
academic excellence in a
Christ-centered environment"

9553 W. Edgerton Avenue

Hales Corners, Wisconsin 53130

414-425-3100 office

About Us Contact Us
Home and School Overview
The Home and School is 100% a parent volunteer organization. "The strength of a school is not found in how many kids show up in class, but in how many parents attend the school's activities!" H&S is a wonderful opportunity for you to volunteer and give back to the school. We hope you will embrace your call to be a part of Home and School to show support for the kids!
The purpose of the Home and School is to support our school through:
fundraising efforts
teacher appreciation
student programs
foster communications between the school and home
Fundraising
We have several fundraisers each year to support our activites.
Magazine Sale (Sept.)
Walk-A-Thon at Petit Center (January timeframe)
Box Tops for Education (on-going)
Restaurant of the Month
Used Uniform Sale
Scholastic Book Fair
Activites We Sponsor
There are a lot of behind the scenes activites that go on at our school. We are very fortunate we have volunteers to help with these extra things in our Home & School!
Sunshine Committee
Teacher Appreciation Week
Speakers
Catholic Schools Week

Muffins with Mom
Doughnuts with Dad
All-School Dance

Room Parents
Grandparent's Day
Winter Carnival
Ice Cream Social (May)
Halloween Dance
8th Grade Dance/Reception
Teacher Development
End of year Field Day
Buddy Program
Having fun at the Halloween Dance sponsored by Home and School: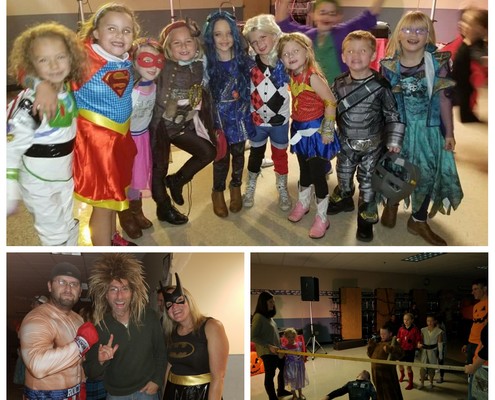 President: Vivian Roe
vivian@thereyouhaveit-v.com
414-412-7566
Flyers
Resources
Calendars
Minutes