Haiti - The Happy House Initiative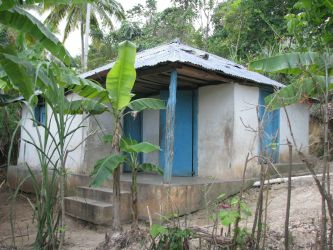 The people in rural Haiti live in dwellings typically made of cardboard, rags and straw. Often the homes are so small that people sleep in shifts. A Happy House replaces these shacks with homes made of concrete blocks, a tole roof, windows and doors. When funds allow, a small porch is added and possibly an outhouse or latrine behind the house.
Over 8 Happy Homes have been built already along with repairs made to numerous other homes. Donate now.
The Process
Recipients are chosen by a vote of a village committee to ensure that the most needy recipients receive the Happy House. They then participate in the building of the house under the direction of the builder.
The Results
| | |
| --- | --- |
| Before | After |
Benefits of these homes:
Provides humane living conditions, sanitation, improved health and dignity.
Communities grow through cooperation and care for the extremely poor.
Families are empowered through their contribution to the creation of their own home.
Tradesmen/laborers gain employment and opportunities to improve their skills.
The local economy benefits from the sale of materials.
Do we have the will to make poverty history? - Bono