Haiti - The Coffee Initiative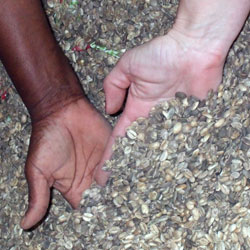 The women of Latiboliere have formed a co-op to help support their families and community. They purchase coffee beans grown in a small mountain village in rural Haiti by subsistent farmers. The hard working women clean the beans and send them back with parishioners of St. Mary Parish. Here the beans are roasted, packaged, and sold.
We have raised $5,000 over the past two years alone!
The Results
All proceeds go directly back to the women's co-op. The ladies provide public health education, distribute food and supplies, help the sick and elderly and sponsor social activites for the whole community. They even encourage individuals to become self sufficient through small business loans.
In their words
"Because of the situation in our country, we couldn't realize our dream, but with the support of St. Mary Parish we now have hope." Please help us keep that hope alive. Donate to the Haiti Initiative today.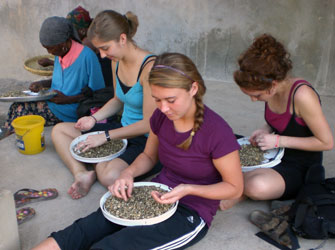 In our words
Purchasing this coffee connects us directly to the strong women of Latiboliere. In a vital way, we support their dream of a better life as we gain an appreciation for all our blessings.
Coffee availability uncertain at this time due to recent earthquake.
"If you come here to help me, you are wasting your time...but if you have come because your liberation is bound up with mine, THEN LET US WORK TOGETHER."