Social Concerns & Outreach
News & Needs
Serve365
Featured Opportunities
Nov. 18: SVdP Southside Meal Program (Help Serve)
---
SVdP November Food Drive
The St. Vincent de Paul Annual Thanksgiving Food Drive is this weekend, November 23 and 24. In this week's bulletin you will find a SVDP grocery bag with a flyer attached suggesting needed food. Please fill and return the SVdP grocery bag to the Gathering Space when you come to Church.
Persons requesting baskets should pick them up between 11:00 a.m. and noon on Sunday, November 24.
We have several goals with this food drive. First, to provide Thanksgiving baskets to 50 or more families at St Mary. These baskets will include a turkey or ham, fresh vegetables and fruits, and other items for a Thanksgiving meal, as well as food for a couple of weeks. You are welcome to give monetary donations next weekend to cover the cost of these items, which we will purchase from a local store. The second purpose of the food drive is to refresh and refill our food pantry. We check all the food in the pantry for expiration dates and refill it with fresh food items. Lastly, this food drive is to help out six inner city SVDP food pantries that are always short of food. They are so gracious ad thankful to us for this support.
Questions? Contact...
Parish Office
(414) 425-2174 or
Karen Brey
(414) 425-2155
In the pursuit of peace and justice,
we strive to be the compassion
of Christ
as we advocate for and minister to
those in need.

Mission Statement
---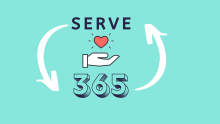 Thanks for your interest
and your witness.
---


Contact Us
Pam Lownik
Director of Social Concerns & Outreach
(414) 425-2174, ext. 256
Email: LownikP@stmaryhc.org