Mass Times
Saturday at 4:00 p.m.
Sunday at 7:15, 9:00, and 11:00 a.m.
Monday-Friday at 8:15 a.m.
9520 W. Forest Home Avenue
Hales Corners, Wisconsin 53130
414-425-2174
Contact Us

About Haiti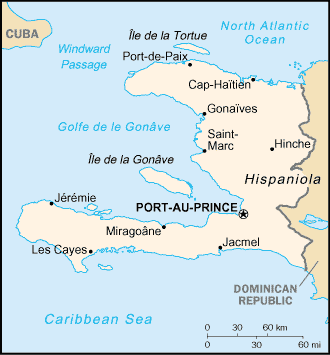 Haitian culture fuses African, French, and West Indian elements. Formerly a social divider, the Creole language is now being used in attempts to define a national culture. The language is used in literature, drama, music, dance, and some governmental functions.
Haiti is the poorest country in the western hemisphere, and one of the poorest in the world. The 7 million Creole and French-speaking people (80% of them Catholic) live in mostly rural areas. The families live in thatched or tin roof homes without running water or electricity. Their livelihood comes from selling produce from a small plot of farmland. Ninety percent earn less than $150 US dollars annually.
There is one doctor per 50,000 people in Haiti. Babies die at the rate of 60 per 1,000 live births. 80 children per 1,000 live births die before the age of 5. The life expectancy for adults is 49 years. More than 80% live without electricity, 80% are illiterate. Because life is a constant struggle for survival, the people of Latiboliere definitely benefit from our prayers and our generosity.

Ways to Help


Water and Sanitation Help, Nutritional support, Education Initiatives, Health Initiative, Soccer Initiative, Collections, packing and shipment of Sea Containers, and Mission Teams to Haiti.
Make checks payable to:
St. Mary Parish
~designate for Haiti in the Memo~
Send to:
St Mary Catholic Faith Community
9520 W. Forest Home Ave
Hales Corners, WI 53130


---

Contact Us


Andrea Kachellek
Haiti Committee Cochair
Email: andream327@gmail.com
(414) 510-4307
Barb Schwartz
Haiti Committee Cochair
Email: SkipBarb@att.net
(414) 425-1658
Pam Lownik

Director of Social Concerns & Outreach

Email
: LownikP@stmaryhc.org
(414) 425-2174, ext. 256