Mass Times
Saturday at 4:00 p.m.
Sunday at 7:15, 9:00, and 11:00 a.m.
Monday-Friday at 8:15 a.m.
9520 W. Forest Home Avenue
Hales Corners, Wisconsin 53130
414-425-2174
Contact Us

Announcements
Haiti Mission Appeal - 2021
St Mary Catholic Faith Community, Hales Corners and Our Lady of Perpetual Help, Latiboliere, Haiti have been sister parishes for over 20 years. The village of Latiboliere, Haiti, is located just north of Jeremie, Haiti. The August 14th earthquake the caused catastrophic damage to the infrastructure in our sister parish community of Latiboliere. Over 80% of the parish center buildings have been destroyed. Our clinic, parish school, community center and rectory cannot be repaired. (The parish church was destroyed by Hurricane Matthew in 2017, still hasn't been rebuilt, and all masses were being celebrated in what was the community center.)
Our relationship with the people of Latiboliere is strong and vibrant. Grounded in our Catholic faith we share prayer, faith, hope and love. Our community in Hales Corners hurts with the people in Latiboliere and all of Haiti and we stand in solidarity, as family, to help them through yet another catastrophe. We pray with them.
Beyond our prayerful support, we are working with people on the ground in Haiti to get direct relief (food, medicine and water purification tablets) directly to Latiboliere. The gangs that have been causing so much pain and suffering during the recent political unrest have promised to stand down and allow relief efforts to get to the people in need. We have strong relationships with local people who will assist us in our relief efforts. Food For the Poor (international relief organization) is helping get supplies to Jeremie (the nearest city). We are working with them to designate supplies for Latiboliere. Our Haitian leadership is organizing shelter and meals (2 per day). Water, food, medicine and tents are all urgently needed. Because of your generosity we have funding in place that enables us to them what they need. We monitor the situation daily and are provided with reports on how our dollars are used. Currently we are funding a three-week emergency plan. Soon we will receive the plan for feeding and educating the 450 school children that no longer have a school building
Your donations are the reason we can actively support Latiboliere. YOU provide needed resources and hope to the people of our sister parish community.
We thank you for your prayers and financial support.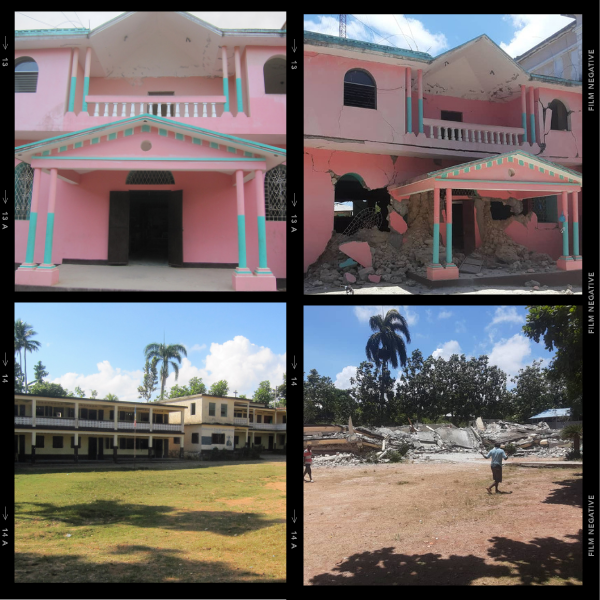 Other Announcements