The Haiti Initiative - Catholic Social Teaching and Twinning: Invaluable Insights
As Catholics, our social tradition demands that we discern the "signs of our times," listening to the many voices of our world and interpreting them in light of the divine Word. Here at St. Mary's, we are blessed as our twinning relationship in Latiboliere, Haiti provides us with an invaluable perspective of our times. Join us in our exploration of the eight themes of Catholic Social Teaching through their realities, as we discern our space in a Church that seeks to "find itself" only through being lost in "the joys and hopes, the griefs and anxieties of men of this age" (Gaudium et Spes no. 1).
Catholic Social Teaching Theme 1: Human Dignity
Haitians have a proverb that touches the heart of our inherent dignity and equality under God: "Tout moun se moun," or "Every human is human." That we are all created in the image of God is indeed the foundation of our relational faith, one that, when taken seriously, obligates us to recognize Christ's presence in every individual that crosses our path. The proverb "tout moun se moun" often acts as a gentle reminder of this obligation in Haiti. In Latiboliere, for example, people routinely utter the phrase while giving to Makawo, a mentally challenged member of the community. Though offensive, rude, and even violent, Makawo is always given food, water, shelter, and acceptance by the people of Latiboliere, who have patience and compassion (and quite the sense of humor) with him in spite of his ways. They recognize that he, too, is human.
Sometimes, the proverb in Haiti acts as a more forceful reminder of the difficulty of our obligation to respect the dignity in everyone. As a man lay dying of a strangulated hernia, having been sent home by the local hospital with no ability to operate, his wife screamed over and over again, late into the night: "tout moun se moun, tout moun se moun…aren't we human too?" It is perhaps the most important question we have to answer as Christians in a world of undeniable inequality and injustice.
Catholic Social Teaching Theme 2: Community, Family, and Participation
Latiboliere, like many communities around the world, is struggling to maintain a strong sense of community and family amongst the youth that live there. Many of the adults recognize what Pope John Paul II affirmed: family "is the most effective means of humanizing and personalizing society," encouraging healthy development of individuals and communities (Familiaris Consortio no. 43). Latiboliere shows such success: in a very real way, people grow up with a strong sense of the importance of relationships and working together to participate in improving one's life. Thus, many families in Latiboliere are supportive, encouraging, and central to the strong level of participation found in the community that is an example to Christians everywhere.
At the same time, there is a sense that the strength of family and community is decreasing. The youth in particular, with no chance at improving their lives in Latiboliere, compounded by seductive messages of material wealth disseminating from Port-au-Prince and the U.S., often become withdrawn or hopeless, ultimately choosing to leave to try their luck elsewhere. The breakdown of family and community that results is continually stated as the most pressing problem in Latiboliere: when the current leaders are no longer around, who will take their place? What will happen to those that remain? Indeed, the reminders of our Pope and our faith necessitate that the members of our sister parish, along with those of us who support them, begin to prayerfully seek solutions, both in our own hearts and our societies.
Catholic Social Teaching Theme 3: Option for the Poor
"Poverty mocks faith."

-Edward O'Neil Jr., M.D.
Jesus Christ taught us to build the Kingdom here on Earth based on His example, an example that consisted in continually reaching out to the sick, the marginalized, and the destitute; in short, the poor of His time. We are deceiving ourselves to ignore the special place that the material poor had in both Jesus' ministry and the teachings of our Catholic tradition. We are not called to give of our excess, the "stuff" at the bottom of our closets; rather, we are called to give of ourselves, to treat the poor better and to give them the best because they are the most in need, regardless of how deserving they may or may not be. Though not a difficult concept to understand, it is certainly difficult to swallow due to its inherent opposition to our cultural ideas of merit-based rewards. Nonetheless, if we take our faith seriously, we must also take poverty, and the poor, seriously with a preferential respect and love that will always be difficult to approach. For this reason, let us give thanks for our sister parish relationship today. In creating personal ties with those who do not eat every day, do not have clean water to drink, and do not have access to education, among other things, we open our hearts to the transformation we are called to as Catholics, of giving of ourselves more freely than we receive with a special love for those most in need. With such a difficult task in front of us, we'll take all the help we can get.
Catholic Social Teaching Theme 4: Rights and Responsibilities
This theme provides the "how to" of Catholic Social Teaching: the way to live in right relationship with one another is to promote human rights and fulfill one's responsibilities to family, community, and the world. Though such directions apply to all, this clearly looks different for every individual. Particularly, the lack of enjoyment of rights often leads to the impossibility of fulfilling responsibilities. Take the example of Zeb in Latiboliere. "Given" at a young age to a relatively wealthier family in the center of Latiboliere from a very poor family, Zeb was forced to do work nearly every day of her childhood. At 15, she got pregnant by Arol, the 23-year-old son of her "adopted" family, and the two were forced to marry. When her in-laws obtained residency in the U.S., Arol and Zeb lived alone in the house with their 4-year-old Francia, and the previous occasional beatings became daily. The parish council of Latiboliere soon intervened and sent Arol away. Six months later, he came back unannounced, beat his wife to within an inch of her life, and took Francia away. Zeb hasn't seen either her husband or daughter since.
Zeb now cries about her "failure" as a mother and the disruption her relationship created in the community. But her story is ultimately instructive to those of us who do have our basic needs and rights met: we have an even greater responsibility to do what we can to protect those like Zeb who are forced into the indignity of being unable to fulfill even basic responsibilities to family and community. Our faith demands it.
Catholic Social Teaching Theme 5: Dignity of Work and Worker's Rights
At the time of writing, a gallon of gasoline costs $6 US in Jeremie, the largest city near Latiboliere. As a result, everything that needs to be shipped in gets more expensive, including staples such as rice (large sack=$20 US), oil (gallon=$7 US), and sugar (pound=$4 US). For a population that lives on less than a dollar a day, the cost of living is increasingly unobtainable, with predictably devastating results for the health of the people. The bottom line is that life for the poor in Latiboliere is expensive, in spite of common misconceptions of the high value of the dollar in poor countries.
In the face of this situation, our Catholic tradition teaches us that each person has the right to work and to obtain a living wage. In a country where formal unemployment lies just below 80%, the amount of change needed to reach that situation seems truly overwhelming…people barely have a wage, not to mention a living wage. But the least that we can do as we reflect upon the situation of those in our sister parish is think about the role of the economy in the world: does it work for people, as our Bishops tell us it is supposed to, or do people work for it? Is there morality guiding an economy that leaves so many shut out? As more people take such questions to heart, the chances of transforming a seemingly overwhelming situation increase exponentially, through the power of faith and the Holy Spirit.
Catholic Social Teaching Theme 6: Solidarity
Today, charity comprises both giving a poor man a fish and teaching him how to catch one himself. Based on the reality of most of the poor in the world, true solidarity doesn't come in until a woman is empowered to ask why her river is polluted and all the fish are dead.
We have spoken often of the successes of the women's group in Latiboliere, led by the fearless Mdm. Renel that so many of us have had the privilege of meeting. In our exploration of the theme of solidarity, we turn yet again to the example of the women's group as the closest we at St. Mary's have come to true solidarity with the poor of Latiboliere. Pople John Paul II defined solidarity as "a firm and preserving determination to commit oneself to the common good" (Sollicitudo Rei Socialis no. 38). When we are resolutely committed to standing with the poor, we seek to listen to their needs and empower them to speak and act for themselves in a way that will advance their collective quality of life. Through our coffee project, we are able support the micro-economic activities of a cooperative of 350 women and, in doing so, facilitate a small but significant improvement in their quality of life, level of education, and overall empowerment. As Mdm. Renel uniquely described: "We (the women's group) were barefoot, but instead of giving us cheap shoes that don't fit, St. Mary's is sitting with as we try to figure out how to make good ones that will last."
Catholic Social Teaching Theme 7: Subsidiarity
Perhaps the most difficult concept of Catholic Social Teaching to understand, subsidiarity comes from the Latin word subsidium, or "backup." In this theme, we are reminded that higher organizational structures should only exist as a backup for what individuals, families, and communities cannot do for themselves (though they do have a responsibility to provide that backup effectively). In other words, do what you can for yourself first. Our brothers and sisters in Latiboliere serve as an example:
In 1998, Fr. Tony had just become pastor of the parish of Latiboliere. The unpaved road up to the church and rectory was atrocious, however, and even his Toyota pickup couldn't often make it up the mountain. When one of the Good Shepherd Sisters in Latiboliere was injured in a car accident coming down from church, Fr. Tony and the community decided to do something about it. On Sundays and late afternoons, hundreds of people carried rocks and gravel from the river up the 30 minute climb to the church, singing and laughing as they worked. Within three weeks, the base of the road on both sides of the Church and rectory was completed, and a collection was begun to pay for the equipment needed to put on the final concrete finish. Three weeks later, the equipment was brought in, the road was finished, and, with no thanks to any outside help, Latiboliere had a paved road up to their church and rectory. There hasn't been an accident since.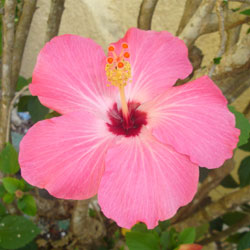 Catholic Social Teaching Theme 8: Care of God's Creation
Visitors to Haiti can attest to the unique beauty of the Caribbean island, with a backdrop of seemingly endless mountains and a distant view of the Atlantic. They can also attest to the lack of care for this ecological landscape that results from the lack of infrastructure in the country: trash that has no way of being collected is burned, buried, or simply tossed somewhere; the charcoal necessitated by a lack of electricity leads to continued deforestation, leaving only 2% of the original vegetation of the island still intact. It's common knowledge that dangerous floods, loss of crops, and decreased soil fertility from erosion all increasingly threaten Haiti's already vulnerable population. Indeed, one hardly needs a better case to care for the environment than looking out from Haiti's National Highway One; instead of the jungle paradise described originally by Columbus, you will see a virtual desert complete with sand and cacti.
The concern that our Catholic teaching shows for our environment teaches us that we are called to be steward's of God's creation, recognizing our dependence on all living things for our own continued survival. Those of us in Hales Corners and Latiboliere are luckier than those living in the area off of National Highway One (Latiboliere is situated in the least deforested department of Haiti), but we should all heed its lesson in light of the respect for life and concern for God's earth inherent in our faith.